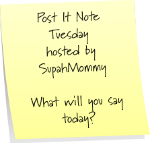 As is traditional with my blog, I am joining
Supahmommy
for Post It Tuesdays. This week, though, I am going to include some extra comments about why the Post It is.
Now if you would like to join us, please do. I actually adore doing these. If you need help learning how to make your very own post-its, please go
here
. Please be sure to link up with
Supahmommy
as well.
Housekeeping first:
Other stuff:

More to come need to run to my brother's now. I won't be able to get to everyone's this week to respond. My email is down. My computer is down. I'm suppose to get the computer back on Friday and I'll be on old desktop til then. Its slower than molasses. But I'm trying to get to you all.