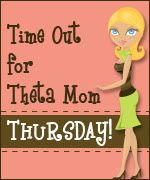 I found this great concept at
Theta Mom
's blog. So I am going to try it out. You are suppose to grab one hour of time within one week to do whatever you want...without the kids! Yes I know what you are all thinking. I never leave the kids. Well I don't but one hour. I'm going to try it. So once you have done the one hour a week, you are suppose to post about it and add Theta's link on the side here and link up to other Theta Moms to see how they spent their hour as well.
This idea made me start thinking about how little time I spend away from the kids. I work from home so Jason is with me constantly. The only real time that Faith is away from me is during school. I am trying to get Jason into preschool in the local school system. He qualified for the prescreening program. I'll talk about that in another blog.
Ok so an hour a week. I chose to do the unforgivable in Faith's eyes. I went to
Borders
without her. Now I promised to do something for me which I took to mean that it shouldn't be about the blog either. I love writing the blog. I love talking to other moms. This blog was never meant to be a money maker for me. I have to admit that I would like people to read it. Some day I want my kids to be able to read this blog and realize that their mother was a woman. I make mistakes it happens.
The first thing I did when I got to Borders was go to the
Seattle's Best Coffee
for a Cafe Mocha. I always wondered if they were associated with
Starbucks
since the coffee tastes similar. They had the same set up that is at
Barnes and Nobles Bookstore
which has a Starbucks in it. When I got home, I looked them up since enquiring minds wanted to know. Starbucks is their parent company.
Once I arrived inside, I was in view of a small espresso bar adjacent to a quiet area with tables and chairs. The bar itself was red themed with a few decorations here and there. There wasn't anything too eye catching. I wouldn't expect it to be anyways since it's really just a small attachment to Borders. The menu was plain and had the average pastry items to choose from. I decided to forgo the cheesecake that looked very inviting. I have to admit the cheesecake almost won the battle.
As I watched the salesperson makes my coffee. I was fascinated with the espresso machine and thought about how nice it would be to make one at home. I haven't bought a machine yet because it defeats the whole purpose of getting away from the kids for a little bit. I noticed that they had different flavored syrups. For my drink, he was putting in mocha. I asked if they sold the flavored syrups to which I was told that it was signature item for "Seattle's Best". As he mixed my drink, he talked about the different flavors of coffee that they sold: French Roast, Breakfast Blend, Almond Roca, Cinnamon, Colombian, and various others. I mentioned that this was a special treat for me. He asked me if I liked ice cream. Well, of course, I do. He then proceeded to tell me that they have a JavaKula. Ok, now this was a nightmare thing for me. Can you say overhaul on the diet plan? Well if I had that I am sure it would kill the diet for a week. Store that thought in the back of my head. He asked if I had a Border's reward card. I said, "Yes." He then told me that you get a free drink on your birthday! No one had ever told me that before. He smiled and told me that the shake was included. Now I'm wondering if he is evil. Doesn't this guy realize that to offer an obvious overweight woman something like that should be criminal? But hey once a year being bad on the day you are suppose sounds like a plan to me.
Good tip for the day: The Border's reward card is free. You earn discounts. You get a free drink on your birthday.
So he finishes brewing my Cafe Mocha and tops it off with whipped cream and a chocolate stick. I'm in heaven. He has just put two of my favorite things of all together: chocolate and coffee. There were lots of seats to sit in but I chose to go wandering for something to read. What will I read? What will I look at? There are so many things to wet my appetite.
Now that looks like a good thing to read during this time out. Definitely goes along with the theme. I'm going to keep looking.
So I found a few books to look at. I have my coffee and what looks to be a very comfortable chair. I, also, found out that I could bring the kids with me next time and sit in this comfy chair and watch them as I read. I love to read. I decided to read the Mother Needs Time too. I will write about the book later on.
The nice part was that I did get some much needed time to myself. It made me start thinking about how much time my husband and I have spent alone together since the kids came along. We didn't allow Faith to stay at anyone's house until she was 5 years old. Not a night out. Now she wants to go all the time. But we have Jason so we don't do that. Because he is 4 years old, we did allow him to spend the night at my brother-in-laws two weeks ago. Maybe I should start thinking about a date night with my husband once a week as well.