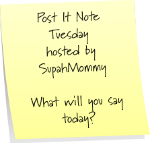 Upon popular request, I am again joining
Supahmommy
with Post It Tuesday. Each post means something to me so I will explain them at a later date and maybe during.
Faith went to the pumpkin patch on a field trip this week. She brought home a pumpkin that is about as big as an orange. We had to pay $11 for the field trip. She had a great time but we were going to try and carve it lol.
Jason had to go to the doctors this week. He was sick. The doctor told him when he was checking his ears that he heard birds in his ears. Doctor leaves the room and Jason says, "Mommy, they are pooping". I said, "What's pooping?" He said, "The birds in my ears are pooping on my brain." I had to get the doctor to give him a way to get rid of them. He was upset lol.
My mom always told me that we would pick up her traits. Yesterday Faith told me to stop staring at her like my mom does. No no. No evil eyes please.

Please be sure to check out other's stickies at
SupahMommy
.